Memorial for Walter Winch '49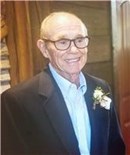 1926 - 2017
Walter Eugene Winch died peacefully at his home surrounded by his family on October 6th, 2017 in Achille, Oklahoma. He was 91 years old.
Walter was born on August 10, 1926 in Springfield IL to his parents, Anthony and Martha Winch. Walter graduated from Millikin University with a bachelor of science after serving in the Air Force during World War II.
He started with Pillsbury in 1951 and after 39 and half years he retired from the Denison plant as a manufacturing engineer. He was also an avid and admired farmer and rancher throughout his life. He was an active member at the First United Methodist in Durant Oklahoma, as well a member in the Bryan County Cattlemens Association.
Walter is survived by his Wife Sue Mires Winch, daughter, and son-in-law, Tom and Sherry Wilthers of Tom Bean TX, grandsons George and Wife Christina Wilthers of Krugerville TX, and Great-Grandson Trey Wilthers, Grandson Russell Wilthers of Sherman TX, Daughter Susan Chavez Of Tom Bean Tx ,granddaughters Dana Manuel and husband Korey of Universal City Tx, and Kayla Sisemore and her husband Brandon of Dallas Tx, Bill and Lesa Arthaud of St. Joseph, MO, grandchildren Chance Clement and Fiancé' Chelsea Byland and great-grandson Jack Clement, Holly Clement of Maryville, MO, Mike and Cristy Smith, and granddaughter Abby of Edmond OK, Sam and Cindy Vinyard and grandson Carson of Altus Oklahoma, granddaughter Charlcey and Keith Plummer and great granddaughter Helen of Tuttle Ok, Justin and Melanie Hansard and grandchildren Kinley, Kooper, and Kambell of Nocona TX. He was preceded in death by his parents, former wife Norma Jean Mason-Winch, and his three brothers. A private celebration of life will be with immediate family at the W2 Ranch in November.
Published in The Herald Democrat on Oct. 11, 2017