Memorial for Marshall Pollock '47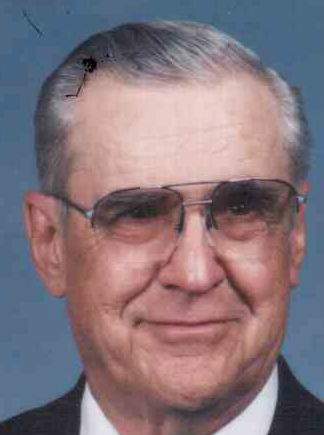 Marshall J. Pollock, 96, of Decatur passed away on Sunday, February 19, 2017 in McKinley Court Nursing Home.
Marshall was born on October 26, 1920 in Decatur the son of Marshall K. Pollock and Gertrude (Shorb) Pollock. He married Betty Jane Warren of Decatur on December 30, 1944 at the U.S. Marine Corps Base in Quantico, Virginia.
Marshall graduated from Decatur High School in 1939. After working for two years as a laborer for Grohne Concrete Products he enrolled at Millikin University in 1941. While at Millikin he enlisted in the U.S. Marine Corps on May 30, 1942. The Marines sent him to Miami University in Oxford, OH (V-12 Program). After a year at Miami he was sent to Parris Island, S.C. for "boot" camp. He next was sent to OCS at Quantico, Virginia where he received his commission as an officer. During WWII he served in the Pacific Theater with his last duty station being in Nagasaki, Kyushu, Japan. Marshall returned to Millikin and graduated with a B.S. in Business Administration.
In 1947 he joined J.L. Simmons Company Inc. where he was employed as an accountant, office manager, and as controller. His 33 years with Simmons Company was interrupted in 1951 when he was called to active duty with the Marines, serving 15 months as Operations officer, 8th Motor Transport Battalion stationed in Camp Lejeune, NC.
Marshall loved the game of baseball and earned two varsity letters at Millikin and one at Miami University.
He served as President at Decatur Baseball, Inc. in 1959 when the Commodores were affiliated with the Detroit Tigers. He served one year as Treasurer for the Macon County Health Association. Marshall joined the Salvation Army Advisory Board in 1986. He served two years as Vice-Chair and two years as Chair of the Board.
Marshall retired in 1986. The last 5 years before retirement he was employed by Mason Steel, ADM-Mason Shop, and Sleeper, Catlin, & Nalefski, CPA Firm.
Next to family and friends, Grace United Methodist Church has been the love of his life. He was a member since 1927 and was the teacher for M&M Sunday School Class since 1955.
Surviving are his wife, Betty Jane; sons, Doug Pollock of Springfield, IL; Dave Pollock (Sheryl) of Herndon, VA; grandchildren, Heather Pollock Amico (Tony) of Herndon, VA; Russell Pollock (Marsha) of Herndon, VA; great-grandchildren Evan Amico and Annette Amico both of Herndon, VA.
He was preceded in death by his parents and sister Margurite Schmahl.
The family will host a memorial service to celebrate Marshall's life 10 AM Thursday, February 23, 2017 in Grace United Methodist Church. Private burial will be in Graceland Cemetery. Memorials are suggested to Grace United Methodist Church Foundation (Lupton Scholarship Fund) or the Salvation Army.
The family of Marshall Pollock is being served by Graceland/Fairlawn Funeral Home, 2091 N. Oakland Avenue, Decatur, IL 62526. Share memories and send condolences to the family at www.gracelandfairlawn.com.
Obituary written by family members.