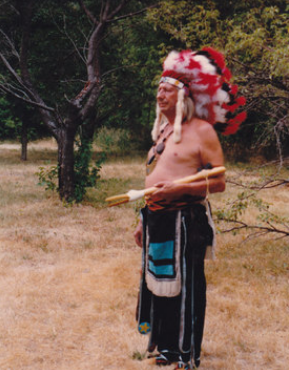 ​Memorial for Wap Shing Rev. Johannes "John, Sr." Mohringer '57
WAP-Shang Rev. Johannes (John Sr.) Mohringer was born in Haarlem, The Netherlands. At the tender age of 14, Johannes joined and served in with the Dutch resistance when Germany attacked Holland. He was later transferred to the regular Dutch Army once Germany had surrendered.
He became drawn to the ministry and in 1947, he entered the U.S. to study and became an Episcopal priest in 1960. He served as vicar in churches in Oklahoma and in Elwood, Ind., as well as here in Lebanon at St. Peter's Episcopal Church.
In May of 1955, he married Johanna Van Dongen, who survives, and they had seven children.
He was naturally drawn to the Native American beliefs and way of life as a citizen of the United States, and in September 1977, Johannes was officially adopted by the Miami Indian Nation and given the name "Wap Shing" by then Chief Mongonzah, who also proclaimed, "Let no one speak of his origins again. He is Miami." Shortly thereafter, Wap Shing performed a burial ceremony for the chief of the Eagle Clan, and also the installation ceremony of his successor. He had served as the spiritual leader of the Miami Nation ever since.
Wap Shing was very well-known and beloved by his people, and participated in numerous pow wows and spiritual ceremonies across the Midwest.
Wap Shing had an infectious laugh and a deep concern and love for others. He had written many things including this, "My position means the world to me. It is my life: to help and uplift others, to comfort and heal, to point to the Creator of us all and the spiritual dimension of life." He was able to fulfill this purpose in his life, especially after he retired from Commercial Filters/Parker Hannifin.
Wap Shing entered the Spirit World on Feb. 15, 2017, as his sons, Fred and John, did before him. He is survived by his wife, Johanna; children, Tom Mohringer, Peter Mohringer, Jim (Wendy) Mohringer, Steve (Terri) Mohringer and Maria (Louis) Shepherd; daughter-in-law, Sally Mohringer; and by very special friend and caretaker, Jennifer Paniqua Greene. He is also survived by several grandchildren and great-grandchildren.
A celebration of Wap Shing's life will be held from 4 to 8 p.m. Thursday, Feb. 23, at St. Peter's Episcopal Church, 950 E. Washington St., Lebanon.
In lieu of flowers, the family asks that you do an act of kindness for someone.