Memorial for Michael E. Tufts '69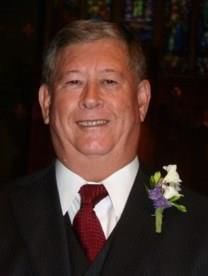 BLOOMINGTON, Ill. -- Michael E. Tufts, 70, of Bloomington, Illinois, passed away Monday, October 9, 2017, at his residence surrounded by his family and friends.
Michael was born September 7, 1947, in Rock Island, the son of Robert M. and Marjorie I. Doerr Tufts. He married Georgia Brown on October 2, 2010, in Rock Island. She survives.
Also surviving are four children, Robert L. Tufts, Annapolis, Maryland; Janelle E. (Drew Ludwig) Tufts, Buffalo, New York; Joseph M. Brown, Bloomington; and Natalie P. (Denver) Schmitt, Barrington, Illinois; three grandchildren, Casey, Leah, and Courtney Tufts-Ludwig; an aunt, Fran Doerr, Rock Island; four cousins, Jennifer Wellman, Jaynesville, Wisconsin; Janet (John) Pelk, Punta Gorda, Florida; Ken (Paula) Doerr, Phoenix; and Glen (Bob Chabot) Doerr, Boston. He was preceded in death by his parents.
He graduated from Rock Island High School and attended Millikin University where he earned a Bachelor of Arts in Economics, graduating in 1969. After college, Michael was drafted into the U.S. Army, obtained the rank of sergeant, and was deployed to Vietnam with the Americal Division, 328th Radio Research Company. He served with distinction receiving two commendations, and a Bronze Star.
Upon returning home, Michael accepted a position as Contract Estimator with McDonnell Douglas Aircraft Company in St. Louis, and retired early in 1982 to spend more time with his children. He then moved his family to Bloomington in 1989.
After marrying Georgia, they spent the next seven years traveling the globe together and supporting each other as they pursued their mutual and individual passions, including co-founding the Heartland Interfaith Group.
Michael was a faithful Christian throughout his life. He belonged to Second Presbyterian Church, serving as deacon. Michael's true passion was his love of history. He was an avid reader of historical texts and his collection of books was a source of joy.
His family wants to thank all their friends and the caregivers at OSF St. Joseph and Advocate BroMenn Hospitals, Community Cancer Center, and MIHOA.
Per Michael's wishes, cremation rites have been accorded. A memorial service will be held at 11 a.m. Monday, October 16, 2017, at Second Presbyterian Church, Bloomington. Visitation will be held two hours prior to the service at the church. Memorial contributions may be made to International Christian Concern (persecution.org), Frontier Fellowship, or Wounded Warriors Project. Online condolences may be shared with the family at eastlawn-bloomington.com.