Memorial for Lerton Krushas '48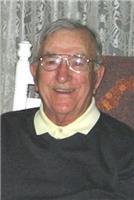 Lerton S. Krushas, 95, of Jacksonville, died Tuesday, Feb. 28, 2017, at Passavant Hospital Transitional Care Unit in Jacksonville.
He was born May 24, 1921, in Chicago, the son of Stanley William and Beula (Farmer) Krushas. He married Elizabeth A. "Betty" Auer, whom Lerton affectionately called "the Queen," on Jan. 24, 1948, in Decatur, and she preceded him in death on Nov. 5, 2015.
He is survived by two children, Lindy Krushas of Springfield, and Stanley Krushas (wife, Patricia) of Edwardsville; two grandchildren, Ryan Krushas (wife, Janie) of Maryville, and Marc Krushas (wife, Chelsea) of Wood River; and a great-grandchild, Makenzie Krushas. He was preceded in death by a sister, Anne Block; and two brothers, Stanley and Edward Krushas.
Lerton was a graduate of Engelwood High School in the Chicago area and served with the U.S. Army Air Corps during WWII. He attended Millikin University in Decatur on the G.I. Bill and a football scholarship. Upon graduation, he returned to service with the U.S. Air Force during the Korean Conflict.
He returned to central Illinois to begin a long career as an area manager for Illinois Power Company in Decatur, Litchfield, and in 1965, a move to Jacksonville. He continued to serve in the Jacksonville office until his retirement in 1984. During his retirement, Lerton served as the executive director of Illinois Power Energy Assistance Foundation, as a field agent for Farmers State Bank and Trust, and as a hearse driver for Cody & Son Memorial Home, often reminding his family that riding in the front seat was a much better choice.
Lerton also spent 26 years with the Pinkerton Agency as a marshall for the Masters golf tournament in Augusta, Georgia. He enjoyed golf, tennis, racquetball, handball, and pretty well any activity that featured a ball. He was gratified to finally witness a world championship for his beloved Chicago Cubs.
Devoted to his community, Lerton served as a 4th Ward alderman and finance committee chairman for the Jacksonville City Council. He also served on the Jacksonville Cemeteries Board and was a former chairman of the Jacksonville Area Economic Development Council. He was a member of Harmony Lodge 3 AF & AM, Jacksonville Elks Lodge, Grace United Methodist Church, Jacksonville Country Club, and Jacksonville Area Chamber of Commerce. And he was known for solving world crises on a regular basis during his 7 a.m. Elks Coffee Club.
Lerton always enjoyed a funny joke, an outrageous story, a fine cigar, and the company of good friends. He was dedicated to finding humor in all things, committed to his community and his neighbors, and devoted to his family which he treasured. Lerton was a man who truly never met a stranger.
The family extends their deep appreciation to the staff of Passavant Hospital Transitional Care Unit for the loving care and attention provided to Lerton.
A celebration of life for Lerton and Betty Krushas will be held 11:30 a.m. Friday at the Buchanan & Cody Funeral Home in Jacksonville, where their children will meet friends from 10 a.m. Friday until the time of services. Military rites for Lerton will be presented following the services. Private family committal services for Lerton and Betty will be held at a later date. Memorial gifts are suggested to the Jacksonville Promise scholarship program or the Kiwanis-Robbie McEvers Youth Golf Tournament. Condolences may be sent online at buchanancody.com.
Funeral Home
Buchanan & Cody Funeral Home, Jacksonville Chapel
1100 Lincoln Ave.
Jacksonville, IL 62650
(217) 243-4000
Published in Jacksonville Journal-Courier on Mar. 2, 2017.