Memorial for Jack Scott Hampson '50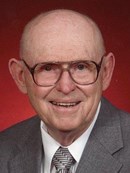 Jack Scott Hampson, 90, died on February 14, 2017, at Clay Gardens in Zanesville, Ohio. He was born February 1, 1927, in Mattoon, Illinois, the son of Clifford and Beryl Hampson. After graduating from Mattoon High School in 1944 he enlisted in the U. S. Navy where he was trained as a radio man. After WWII ended he enrolled at Millikin University in Decatur, Illinois, graduating in 1950.
He began his YMCA career in Chicago, Illinois before serving at Y's in Elkhart, Indiana, Schenectady, New York, and Lebanon, Indiana. He was the executive director of the YMCA in Warren, Pennsylvania for 6 years before starting a second career as a recreational director at Warren State Hospital, from which he retired in 1989
Jack celebrated his life through his wives, children, and grandchildren. He loved family and God and was a longtime member of the United Methodist Church. Jack was a man of integrity and lived his Christian beliefs by example. He showed strength through humility and his greatest gift to others came through kind, encouraging words. He had a servant's heart and never hesitated to lend a helping hand. He was an avid gardener and had a passion for camping with friends and family which he passed on to his children. He volunteered at Hospice, Meals On Wheels, and the local hospital, and was a racquetball teacher at the YMCA. A fellow resident summed it up best when he said, "I will always remember Jack by how much his children loved him."
He is survived by two daughters, Beverly LeMaster (Lewis) of Zanesville, Ohio, and Valerie White (Keith) of Drums, Pennsylvania; a daughter-in-law, Kathy Hampson of Fort Worth, Texas; a brother, Gene Hampson and his wife, Zula, of Mattoon, Illinois, and three stepsons- Michael Tucker of North Carolina, John Tucker, Jr. of North Carolina, and Rev. Dan Tucker of Indiana.
His grandchildren are Kayla Tornello, Todd LeMaster, (Bev); Christina Newton, Stephanie Hampson, Tiffany Hampson, (Dave); Toni White, Tyler White, and Benjamin White, (Val). He is also survived by six step-grandchildren, three great-grandchildren, and 7 step-great-grandchildren.
In addition to his parents he was preceded in death by his first wife, Annetta Smith Hampson, his second wife, Carol Niver Hampson, a son, Rev. Dr. David Hampson, and a sister, Mary Anne Greanias.
In lieu of flowers donations can be made to Hospice of Central Ohio or Compassion International. A Celebration of Life service will be held at Trinity United Presbyterian Church in Zanesville at a future date. Burial will be in Warren beside his first wife, Annetta. To sign the online guestbook or leave a personal note of condolence please visit www.hilliscombsnestor.com