Memorial for Carol Jean Cain '56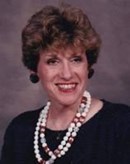 1935 - 2017
Carol Jean Cain A Wandering Star- died of complications related to stomach cancer on October 11, 2017, in Fredericksburg, TX.
Born on Feb. 19, 1935 to Raymond and Edna Kirkham Cain in Harrisburg, IL, Carol grew up in Springfield where the family moved after a historic flood. Her parents and her beloved little brother Ray Jr, a prominent landscape architect from Honolulu, predeceased her.
Carol attended Millikin University, where she learned her trade as an X-ray technician and met the father of her three children. The marriage produced three sons-Thomas (Amy) of Ponte Vedra Beach, FL, Steven (Tracey and Mary) who predeceased her and Mitchel Bell (Suzanne) of Fredericksburg, TX. The mid 1970's brought a move to Houston, where Carol worked as a nuclear medicine technician in a number of health care facilities.
Over the next 30 years, she formed many lifelong friends. She married J.D. Barron a former chemist with Shell. They had many happy years together. J.D. had four children who Carol came to know and love. J.D. and Carol moved to Fredericksburg after they retired to be closer to Carol's son Mitch and her grandchildren. Unfortunately, J.D. passed away several years after the move.
Carol then had the good fortune to meet Bill Fahle, Superman. The two fell madly in love. Their whirlwind romance included moving to Italy for a year. The logistics were simple. Book passage on a cruise liner, load up the car, drive to Florida, unload and sell the car, move to Italy. Not bad for a couple in their late 70's. Bill and Carol married several years ago on his 80th birthday. Their time together was among the happiest of her life. Bill and his wonderful family not only welcomed Carol into their family, they provided love and support through her battle with cancer. Survivors include Bill and his family, sons Tom and Mitch, daughters in-law Amy and Suzanne.
Carol has ten grandchildren, three by Steve: Kim, Jennifer and Nicholas Bell, three by Tom: Kevin, Brian, and David Bell, and four by Mitch: Heath, Lainne, Loxi, and Jack Bell survive her. Two great-grandsons: Tristan and Keiran live in San Antonio with their mother Kim. Also, Ray Jr.'s wife Lois of Honolulu, HI and several cousins on both the Cain and Kirkham sides.
It is difficult to fully describe Carol's zest for life. She was active in her church and faith wherever life's journeys took her. She enjoyed outdoor activities such as skiing in Colorado, bicycling in Nova Scotia, running marathons, visiting Hawaii, or traveling Europe with Bill. Her life was many things but never dull. When she wasn't enjoying outside activities, she passed her time sewing, quilting, or tap dancing, but mostly just having fun with her family and many friends.
A memorial will be held Saturday October 28, 10 AM at Memorial Presbyterian Church, 601 N Milam St in Fredericksburg. Reception following at St. Mary's Holy Family Center, 306 W San Antonio St.
Published in Houston Chronicle on Oct. 22, 2017