Memorial for Shirley Jean Carter Allspach '49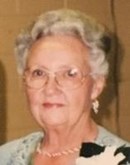 Shirley Jean Allspach, 90, of Mt. Pulaski, died at 7:03 a.m., Saturday, Feb. 4, 2017, at Vonderlieth Living Center in Mt. Pulaski. She was born May 8, 1926, to Royal and Helen Snyder Carter. She married Edward Leigh Allspach on Feb. 26, 1948, who preceded her in death on Dec. 6, 2010. Also preceding her in death was one son, David Edward Allspach, on July 23, 1975. Surviving are one son, George (Karen) Allspach of Mt. Pulaski; four daughters: Kathryn (Scott) Steinfort of Sunrise, Fla., Linda (Dennis) Sheehan of Lincoln, Ill., Jerilee (Brad) Gibbs of Crawford, Colo., and Jo Ellen (Mark) Gilbert of Paris, Ill.; 13 grandchildren; and 24 great-grandchildren.
Services for Shirley will be at 10 a.m., Friday, Feb. 10, 2017, at Fricke-Calvert-Schrader Funeral Home in Mt. Pulaski with Mark Weber officiating. Visitation will be from 4-7 p.m., Thursday, Feb. 9, 2017, at Mt. Pulaski Christian Church Family Life Center. Burial at Steenbergen Cemetery will follow the service. Memorials may be made in Shirley's name to: Vonderlieth Living Center, or Mt. Pulaski Christian Church. Shirley attended Mt. Pulaski High School and Millikin University. She helped at the family businesses, Carter Pharmacy and Allspach Farms. She was a homemaker who always put her family first.
One of her favorite things was caring for her grandchildren and great-grandchildren. She always had time for everybody.
Shirley had a passion for cooking, gardening, helping other people, and was involved in many community activities.
In addition, she enjoyed traveling the world with her husband, Ed, volunteering at the Mt. Pulaski Historical Society, and being a part of the Prairie State Model T Car Club, where she played a leadership role for years.
Her faith was an important part of her life. She was a supportive member of Copeland Christian Church and Mt. Pulaski Christian Church.
Her sweet smile and gentle disposition will be long remembered by all who knew her.
Published in The Lincoln Courier from Feb. 6 to Feb. 8, 2017