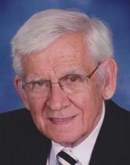 William J. Allan, 78, of Collinsville, Ill., born Nov. 2, 1938 in East St. Louis, Ill., passed away on Jan. 24, 2017 at Anderson Hospital in Maryville, Ill.
Bill retired from McDonnell Douglas Corporation/Boeing Corporation after 41 years of dedicated service. Additionally, he worked many years as a Cashier at Fairmount Race Track. Following graduation from Collinsville High School, he attended Millikin University in Decatur, Ill. He generously volunteered his time to help many organizations in the Collinsville/Maryville area, most especially the Knights of Columbus, having served 27 years as a 3rd Degree Knight. Bill was an active and contributing member at Mother of Perpetual Help Catholic Church in Maryville, a coach for his children's soccer teams, and was extremely active with the Collinsville Senior Citizen's Pinochle Club.
He was preceded in death by his parents, Elmer A. and Constance E., nee Genetti, Allan; three brothers-in-law, Warren Billhartz, Robert Modlin and Darrel Kohlenberger and a nephew, Andrew Kohlenberger.
He is survived by his loving wife of 55 years, Sally, nee Senn, Allan; a son, Kirk (Donna) Allan of Suwanee, Ga.; a daughter Dana (Jason) Anderson of Imperial, Mo; eight grandchildren, Derek Allan, Tyler Allan, Daniel Blume, Andrew Blume, Emily Blume, Colton Anderson, Ethon Anderson and Katherine Hendel; three brothers, Thomas (Billie) Allan, Terry (Mary) Allan and Edward (Annette) Allan; two sisters, Marybeth Modlin and Marcia Billhartz; a sister-in-law, Shiela Kohlenberger; a brother-in-law, Elmer Senn; dear nieces and nephews; great-nieces and nephews as well as great-great nieces and nephew.
In lieu of flowers, memorials may be made to Mother of Perpetual Help Catholic Church (to the church or in the form of masses), 200 N. Lange Ave., Maryville, Ill. 62062. Condolences may be expressed online at www.lakeviewfuneralhm.com
Visitation: Friends may call from 3 to 8 p.m. on Friday, Jan. 27, 2017 at Lake View Funeral Home, 5000 N. Illinois, Fairview Heights, Ill. 62208.
Services: A Mass of Christian burial will be celebrated at Mother of Perpetual Help Catholic Church, 200 N. Lange Ave., Maryville, Ill. with Fr. Joseph Havrilka officiating. Interment will follow in S.S. Peter & Paul Catholic Cemetery in Collinsville, Ill.
LAKE VIEW FUNERAL HOME, Fairview Heights, Ill.
Published in Belleville News-Democrat on Jan. 27, 2017