Dim the lights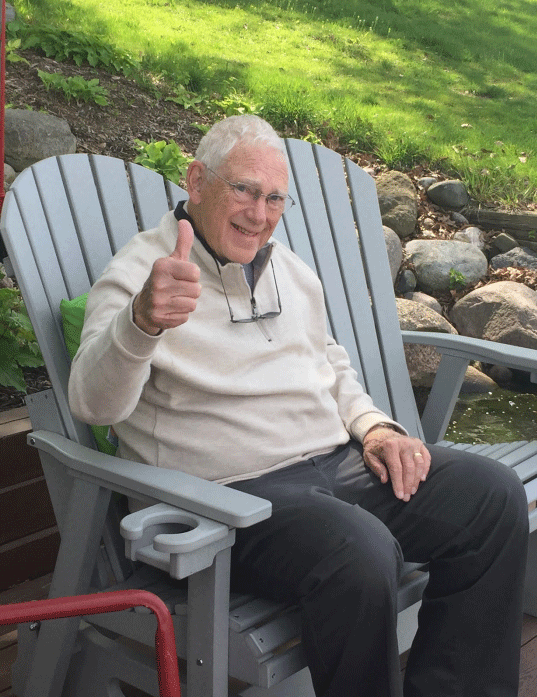 It's a Broadway tradition to dim marquee lights to mark a death in the theatre community. If Millikin had a Great White Way, the lights would have dimmed May 25, 2019, to mark the passing of Dr. Arthur Hopper, former chair of the department of speech and theatre and the man who started the theatre and musical theatre majors at Millikin.
When Dr. Hopper came to Millikin in 1970 as chair of the speech department, there were two other faculty members in the department and eight students majoring in speech. There were no theatre majors or theatre faculty, because there was no theatre program. A letter from Dr. Hopper written in 2010 described the start of Millikin's now world-renowned theatre and musical theatre programs:
"Malcolm Forbes, then dean of the College of Arts and Sciences, had brought me there to start a theatre major. Sets were to be built in an empty classroom on the ground floor of AT Hall. The only tools were a few hand saws and hammers. No power tools. No costume shop. Set pieces, (basically flats and platforms) were stored in the attic above AT Hall. It was a very primitive situation. But by fall 1971 we had a major in theatre and musical theatre (thanks to the talented music majors who were participating in plays)."
From those humble beginnings, Hopper and fellow faculty members crafted the basic structure for the programs that would become an integral part of today's School of Theatre and Dance. In the intervening 50 years, the popularity of these programs has soared, and they continue to garner respect and accolades from theatre professionals the world over.
Dr. Hopper's wife, Dee Hopper, remembers his affection for Millikin and for the many students he taught and directed over his 14 years at the University:
"He was so proud of Millikin's reputation and of the national attention the program has received," she says. "He made a lot of friends there, and some came to his memorial service. He was very proud of starting the musical theatre program, and had kept in touch with some of the students."
One of those former students is Tim Shew '80 (see sidebar). Shew has fond memories of "Doc Hopper" directing him in the role of Tony in Millikin's 1977 production of "West Side Story."
"He really had great vision," Shew says. "He was able to translate his spirit, excitement and passion for the theatre. You became a sponge and wanted to soak up everything he was relating to you."
In addition to helping start the Midwest's first BFA program in musical theatre at Millikin, Dr. Hopper was instrumental in another part of MU history: directing the first musical theatre production at the new Kirkland Fine Arts Center in 1971. Dr. Hopper recalled that historic evening in letters to Millikin: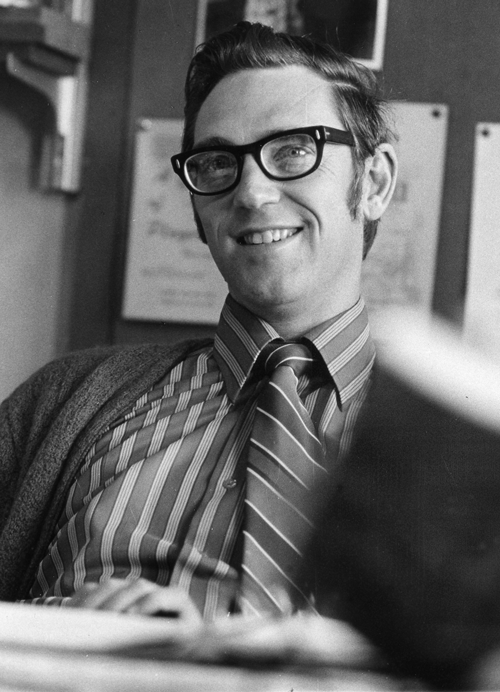 "We did the first musical in Kirkland: 'The Man of LaMancha,' with Gary Motta '74 in the lead role and a number of other music majors in the cast. A gala event was held with Mrs. Kirkland [Eva Kirkland, major donor to the KFAC building project] and Governor Ogilvie attending. It was a great success."
Dr. Hopper also directed summer theatre productions during his tenure at Millikin.
"He was really proud of the summer theatre where he would do three shows," Mrs. Hopper says. "I think those summer productions were instrumental in helping build the program. There's no theatre without an audience and he knew how to build an audience and present shows that the public wanted to see."
Dr. Hopper also tried to give students realistic expectations about working in the theatre.
"He always said, 'They call it show business for a reason,'" Mrs. Hopper says. "It's a show, but it's also business and you have to be successful in the business end. If you don't understand what you have to do as an actor to market yourself, it's going to be that much harder. He believed in that very strongly and that's one reason his students are successful."
Dr. Hopper left Millikin in 1984 to chair the department of Theatre and Dance at the University of Wisconsin-Stevens Point (UWSP). Just as when he came to Millikin in 1970, he was hired to develop BFA programs at UWSP. During his 16 years at UWSP, he pioneered programs in acting, dance, design and musical theatre.
"He really had a gift for directing and bringing out the best in students; taking young, inexperienced actors and helping them become very fine performers," Mrs. Hopper says. "He loved working and helping young people."
Upon his retirement from UWSP in 2000, the Hoppers enjoyed traveling throughout the country to attend theatre productions and follow up with former students.
"Many times when we went to a theatre production and were reading the cast bios, someone would be from Millikin. This happened all over the country," says Mrs. Hopper. "When you mention Millikin in music and theatre circles, people know someone from there; they know its reputation."
In 2003, the Hoppers moved to Door County, Wis., where they enjoyed the area's vibrant arts and theatre community.
"We were just blessed," says Mrs. Hopper. "He was able to attend and work in theatre and feed his passion into his 80s. He also was a watercolorist and showed his work in many galleries. He painted until the last week of his life."
A memorial service for Dr. Hopper was held in early August at the Third Avenue Playhouse, a Door County theatre where he had directed productions.
"The celebration was rather unique," Mrs. Hopper says. "Ten performers did short themes from plays he had directed them in or sang selections from plays he had done. It was very touching and moving, but also very joyful."