September 2019 News
COMING SOON: A THEATRE NEAR YOU ...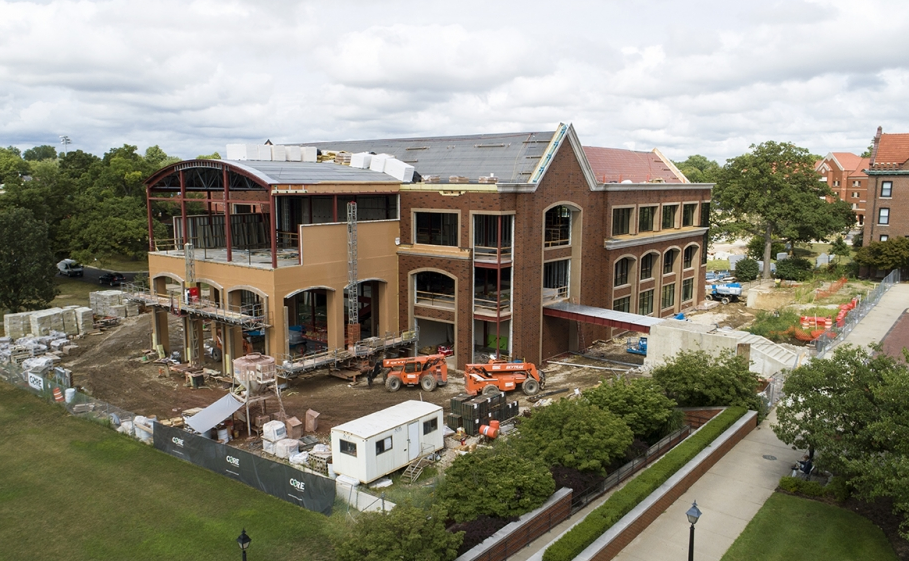 As I write this, it is the first day of classes of the fall semester of 2019. At this time next year, the School of Theatre and Dance will begin classes and rehearsals in the new Center for Theatre & Dance. Today, I got a tour, complete with hard hat and safety vest, of the work in progress on the building. It is extraordinary - everything we hoped for and more. Watch the video here. It is over 60,000 square feet of studio space for rehearsals and performance classes, labs for design and production courses, collaboration spaces for students, offices for faculty and staff and welcoming public spaces, all wrapped around an intimate, state-of-the-art theatre. This is the home Theatre and Dance never had but always dreamed of — and at last, the dream is coming true. If you have supported our efforts to realize this monumental project, THANK YOU!!!!! If you have not, we invite you to join our other donors by making a gift NOW as the excitement builds toward next fall! We have less than a year to go, and we still need your support!
STATE OF THE ART

Meanwhile, back in the School of Music, our Music Industry Studies and Arts Technology students and faculty will be firing up a serious piece of equipment in Millitrax Studios: a brand-new Neve 5088 Shelford 32-channel studio recording console. Millitrax has been in need of an updated console for a few years, and it has finally arrived – and thanks to the hard work of Clinical Instructor Kevin Guarnieri, it has been installed and is ready to go! According to Guarnieri, the console "makes Millikin one of only 51 colleges/universities currently using Neve 5088 and the second in Illinois." The systems design, components and build quality of this recording desk make it one of the highest fidelity/lowest distortion consoles being made. Just ask any audio gearhead – they'll be impressed. This beautiful piece of equipment was financed, in part, by the College of Fine Arts Patrons Society. Your generous donations to the Patrons Society make this kind of progress possible and allow our faculty and students to work and learn on the kind of equipment they will encounter at the highest levels of the music industry. Thank you, patrons!
SPEAKING OF NEW HOMES …
Our world-class Percussion program has found new digs in one of the "New" Halls (hardly new!) The new (to us) location needed a few touch-ups and some serious acoustic treatment (percussion!) It will serve the needs of the program by providing large rehearsal rooms, smaller practice rooms and office space for percussion faculty and students. First Step Records, one of the College's many student-run business ventures, will also have space in this building for their meetings and operations.
ALL THIS, AND A NEW DEGREE PROGRAM?
Well, yes. We never sleep. The faculty across the College of Fine Arts have long seen the need, and the appeal, of an Arts Administration degree program. We have a lot of arts to manage! Given that we have a great deal of expertise in various arts industries and practices, and given that the Tabor School of Business is right here on campus, we have put together a degree program that will allow students to deepen their study in their chosen media and learn valuable skills in management, marketing, accounting and entrepreneurship to prepare them to be leaders in arts organizations.

LAST, BUT BY NO MEANS LEAST!
A thrilling season of concerts, plays, musicals, art exhibitions and more awaits you in various venues on and off campus. We'll start with the annual Labor Day Pops concert with the Millikin-Decatur Symphony Orchestra, on Monday, Sept. 2, at 6 p.m. This year, the concert moves to the beautiful new Devon Lakeshore Amphitheater.
So much has been going on around Millikin's campus. We hope to see you soon as you learn more about all that the College of Fine Arts has to offer!

Laura Ledford
Dean, College of Fine Arts