2020 Millikin University Poster Symposium Abstracts
April 24, 2020
Student Name: Blaine Traylor
Faculty Sponsors: Dr. Anne Rammelsberg, Dr. Jennifer Schroeder
Discipline: Chemistry
Title: Synthesis of Peptides and Bioassay for Anticancer Activity
Abstract:
Solid-phase peptide synthesis was used to produce milligram quantities of Glycine-Cysteine-Glycine-Asparagine-Serine or GCGNS and GGGNS, GGGGS, GGGGG, GCGGS, and GGCNS. These pentapeptides were examined for anti-cancer activity against MCF-7 breast cancer cells. Despite previous results to the contrary, all unpurified and three of the five C18 purified peptides decreased breast cancer cell viability significantly. This indicates that GGGGS, GGGGG, and GGCNS demonstrate anti-cancer activity against MCF-7.
• • •
Student Name: Isabella Newingham
Faculty Sponsor: Dr. Marianne Robertson
Discipline: Biology
Title: Does the Millipede, Orthoporus texicolens (Spirostreptida: Spirostreptidae) Exhibit Habituation to Tactile Stimuli
Abstract:
North American millipedes, Orthoporus texicolens, are common arthropods in woodland soils. When exposed to predators, millipedes coil as a defense mechanism to protect the head and ventral body surface. We examined habituation, a type of non-associative learning, described as a diminished response to a repeated neutral stimulus. Millipedes have the capacity to habituate to a vibrational stimuli, but habituation to tactile stimuli has not been examined. Therefore, we observed coiling in response to 25.0, 23.5, 21.5 and 20.0 newtons of force. We exposed control millipedes to the stimulus twice for 10 sec, separated by an interval of 40 minutes. We exposed experimental millipedes to the same vibrational stimulus for 10 seconds over the course of 10 trials separated by 2-minute intervals. We recorded presence versus absence of coiling to the stimulus and the duration of each coiling response. We analyzed data using a paired t-test, repeated measures ANOVA and Friedman's test. There was no evidence of habituation at any pressure; millipedes continued to coil in all trials. There was no significant difference in the length of response over trials in control or experimental treatments. However, there was an increase in the number of non-responses to the stimuli as pressure decreased. This demonstrates that it is adaptive for this species to respond to pressure stimuli.
• • •
Student Name: Emily E.G. Kemp
Faculty Sponsor: Dr. Linda Collinsworth
Discipline: Psychology
Title: The Role of Social Support and Domestic Violence in Trauma and Self-Disturbance in Female Prisoners
Abstract:
This study looks at the relationship that social support and domestic violence play in female prisoners' trauma and self-disturbance symptoms. Female prisoners at a minimum-security prison were given the Trauma Symptom Inventory-2 (TSI-2) to determine their traumatic symptoms. In addition, the women completed questions about their levels of social support and domestic violence that they had experienced in the past. The results showed that there was a significant correlation between self-disturbance (a subscale of the TSI-2), social support, domestic violence, and trauma symptoms (as reported on the TSI-2). The importance of this study is that it highlights the mental health needs of female prisoners.
• • •
Student Name: Juliana Guaglianone
Faculty Sponsor: Dr. Anne Rammelsberg Rodriguez
Discipline: Chemistry
Title: The Development of a Quantitative Ammonia Assay for Nicotinamidase
Abstract:
As the primary treatment of Lyme disease is antibiotics, alternative treatments for Lyme disease could help prevent the growing problem of antibiotic resistant bacteria. Nicotinamidase is an enzyme critical to the function of Borrelia burgdoferi, the bacteria that causes Lyme disease, but is not found in humans. This makes it a good target for an inhibitor. The activity of nicotinamidase has been qualitatively measured but this is not an ideal method to test the effectiveness of new inhibitors. An ammonia assay can be used to quantitatively determine the activity of the enzyme during purification. The nicotinamidase purification steps from Saccharomycies cereviscia were modified to remove the ammonium sulfate precipitation step, so the ammonia assay could be used to investigate novel inhibitors.
• • •
Student Name: Matthew A. Frank
Faculty Sponsor: Dr. Paris Barnes
Discipline: Chemistry
Title: Ionic Conduction in Li5A11-2xTixZnx04 and Li6Zn04 Antifluorites
Abstract:
Lithium-based ionic conductors have been studied since the early 1970s. Batteries constructed using Li-ionic conductors have undergone limited changes since then. Mobile battery power is an essential aspect of current technological applications, but the current battery model has limitations. During this project, ß-Li5All-2xTixZnx04 (0<x<0.15), and Li6Zn04 were synthesized and their structures were determined using high-resolution synchrotron powder diffraction. Results from the synchrotron powder diffraction demonstrate that Ti4+ and Zn2+ cations were adopted into the antifluorite structure of ß-Li5Al04 and that the materials were near single-phased. Ionic conductivities of the antifluorite materials will be reported. Structure-ionic conduction property relationships will be discussed, allowing for better Li-ion containing antifluorite materials to be chosen and studied for their applications in Li-ion battery technology.
• • •
Student Names: Han G. Do, Miranda S. Rueff, Andrea N. Schlagel
Faculty Sponsor: Kyle N. Knust
Discipline: Chemistry
Title: Identifying Substandard and Counterfeit Acetaminophen Containing Pharmaceuticals using High Performance Liquid Chromatography
Abstract:
Low-quality pharmaceuticals commonly enter consumer markets in developing countries with ill-equipped regulatory agencies. With the Distributed Pharmaceutical Analysis Lab (DPAL) headed by Dr. Marya Lieberman at the University of Notre Dame, pharmaceuticals are initially screened on-site with low-cost paper analytical devices. We then evaluated suspect acetaminophen containing samples from Kenya using reversed-phase HPLC to determine if the pharmaceuticals were substandard or counterfeit. Prior to HPLC analysis of pharmaceuticals, we completed system suitability testing to verify our ability to analyze acetaminophen potency.
• • •
Student Name: Stephen DeMartini
Faculty Sponsor: Dr. Jennifer Schroeder
Discipline: Biology
Title: Effects of Three Triazine Herbicides on Expression of Critical Peroxide Metabolism Genes in MCF-7 and MCF-10A Cells
Abstract:
Herbicide usage within the United States has led to increased residential contact with these chemicals through physical contact of the epidermis, inhalation, and through the surface and groundwater. Research has shown that chloro-s-triazine herbicides have an impact on the hydrogen peroxide pathway. Following activation of the Nrf2 pathway responsible for the H202 response in cells, the cascade splits into the enzymatic and protein synthesis courses. This project focused on the enzymatic portion of the pathway, specifically Peroxiredoxin 1 and Thioredoxin 1, and their associated enzymes Sulfiredoxin and Thioredoxin Reductase respectively. We treated cancerous MCF-7 and non-cancerous MCF-10A breast epithelial cell lines with concentrations of atrazine, cyanazine, and simazine at 0.1x, 1.0x, and 10x the EPA maximum concentration. Using RNA isolation techniques and cDNA synthesis, we analyzed gene expression through RT-PCR analysis and compared it to a 36B4 control. Using an Analysis of Variance (ANOVA) we were able to determine that within the enzymatic portion of the hydrogen peroxide pathway there were statistically significant differences between the expression of MCF-10A and MCF-7 cells with regard to Peroxiredoxin 1, Sulfiredoxin, and Thioredoxin 1. There were further fold change differences with regard to concentration and herbicide used. The varying degrees of fold change demonstrate potential inhibition of the Nrf2 inhibitor, resulting in a unanimous increase in expression. Further research will focus on this portion of the H202 pathway.
• • •
Student Name: Justin Craig
Faculty Sponsor: Casey Watson
Discipline: Physics & Astronomy
Title: Constraining the Properties of Milky Way Dwarf Spheroidals with Surface Brightness and Velocity Dispersion Data
Abstract:
Using a combination of surface brightness and velocity dispersion data, we simultaneously constrain the velocity anisotropy and dark matter mass profiles of Milky Way dwarf spheroidals (dSphs). Our findings indicate strong correlations between the distributions of visible and dark matter within the dSphs and provide further insights into the cusp vs. core debate.
• • •
Student Name: Lucas Chatterton
Faculty Sponsor: Amber Lusvardi
Discipline: Political Science
Title: American Gun Control: What Will it Take?
Abstract:
America is unique when it comes to gun violence, insofar as we experience more gun violence than any other developed nation in the world. Many other nations have gone through a scenario where a terrible mass shooting occurred, and then gun control legislation was created as a result. In the United States, we experience mass shootings nearly every day, but we still do not have any sort of comprehensive gun control laws. In this paper, I will be examining what sets the United States apart from other nations using the Multiple Streams Framework established by John Kingdon along with a series of case studies of gun violence and policy creation in other nations. From there, I will attempt to answer the question of what it will take to pass gun control legislation in America.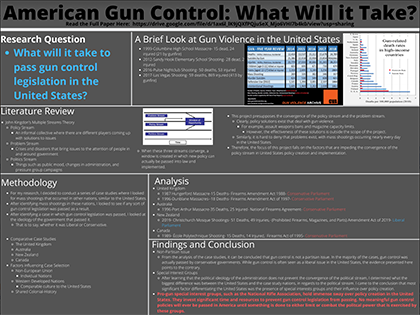 • • •
Student Name: Lane Caspar
Faculty Sponsor: Amy Delaney
Discipline: Communication
Title: Investigating Stress and Coping in Millikin's Panhellenic Sorority Members
Abstract:
In this presentation, Senior communication major Lane Caspar will present preliminary results from a SURF project initiated in the summer of 2019. Rigorous academic requirements and new social interactions can prompt increased stress in college students, which is why it is crucial for students to develop friendships to gain the social support they need for resilience in a new environment. Research has documented distinct psychological and physical benefits of having close friends in college. In search of the connections that they need to succeed, students may look to clubs and organizations on campus, including Greek organizations. The theory of resilience and relational load (TRRL) is an emerging theory in the study of interpersonal communication and its links to health outcomes. The perspective draws attention to the ways individuals contribute to their social systems (romantic relationships, friendships, families, etc.) and how these social systems shape individuals' resilience in times of stress. The purpose of this longitudinal study is to test the TRRL in the context of Greek life at Millikin University, specifically among Panhellenic sorority members. The data collection occurred at three key points across the Fall 2019 semester to capture how stress and coping strategies evolved among the participants. Lane will present the data regarding the participants' reports of stressors and their coping strategies over the course of the semester and discuss the utility of the TRRL in understanding women's experiences in their sororities.
• • •
Student Name: Madeline Batek
Faculty Sponsor: Dr. Jennifer Schroeder
Discipline: Biology
Title: Use of a Breast Cancer Model to Examine Cytotoxicity of Common Topically Applied Essential Oils
Abstract:
Chemotherapy is a typical form of breast cancer treatment that not only acts on tumor cells, but also has negative systemic effects on non-cancer cells. Natural plant products and compounds derived from plants, such as essential oils, are being researched as alternative forms of cancer treatment due to their anticancer properties. We tested the cytotoxicity of essential oils of bergamot (Citrus bergamia), clary sage (Salvia sclarea), frankincense (Boswellia serrata), lavender (Lavandula angustifolia ), lemongrass (Cymbopogon flexuosus), peppermint (Mentha piperita), and tea tree (Melaleuca alternifolia) to MCF-7 breast cancer cells at varying concentrations. MTT assay analysis was carried out following treatment to determine cell viability. During treatment, it was observed that there were interactions between the essential oils, due to their volatile nature. The essential oils were then individually tested to determine cytotoxicity to treated and non-treated cells. Cell viability was observed to be the lowest in 0.1% treatment groups. Cells in adjacent, non-treated wells also experienced reduced viability compared to those farthest from the row receiving treatment.
• • •
Student Name: Logan Bader
Faculty Sponsor and collaborators: Dr. Travis Wilcoxen, Jane Seitz, Jacques Nuzzo
Discipline: Biology
Title: Seroprevalence of Lyme Disease (Borrelia burgdorferi) in Birds in Central Illinois
Abstract:
Many zoonotic diseases, such as Lyme disease, can be transmitted from wildlife hosts and vectors to avian populations. Lyme disease is acquired through exposure to the bacterium Borrelia burgdorferi. While past studies of Lyme disease in avian communities remain largely descriptive, this study aims to gain an understanding of the development of antibodies against B. burgdorferi in raptors, songbirds, wading birds, and waterfowl. We hypothesized that birds that forage in grassy habitats would possess the most elevated levels of IgY antibodies against B. burgdorferi due to more exposure to ticks, the primary vector of Lyme. We collected blood samples from 512 birds of 17 various families and performed an enzyme-linked immunosorbent assay (ELISA) to detect the presence of IgY and IgM antibodies specific to B. burgdorferi in each sample. Within the population, 11 of the 17 families possessed IgY to Lyme. Families with the highest seroprevalence of IgY specific to B. burgdorferi included Corvidae (Crows, Jays); Turdidae (Robins, Bluebirds); and Columbidae (Doves, Pigeons). Overall, we found that variation in the seroprevalence of B. burgdorferi was significant among taxonomic groups. While it is clear that songbirds possess the largest number of seropositive individuals, there was no significant association of habitat or season on seroprevalence of B. burgdorferi in our population. Frequent IgY and IgM antibody detection suggests that many avian families in Illinois have history of exposure to B. burgdorferi, the causative agent of Lyme disease.
• • •
Student Name: Dalton Glasco
Faculty Sponsors: Dr. Kyle Knust
Discipline: Chemistry
Title: Simple Method for Preparing Customizable Pyrolyzed Resin Carbon Electrodes Using 3D Printing
Abstract:
In this research, a more accessible fabrication procedure was used to create pyrolyzed photoresist electrodes (PPE). A 3D printer was used to design a custom pattern of carbon resin onto a quartz slide and then pyrolysis was used to form PPEs. After fabrication, analyses were performed to characterize the PPEs prepared with 3D printing and compare to commercial glassy carbon electrodes. Atomic force microscopy (AFM) was used to determine surface roughness, cyclic voltammetry (CV) was employed to examine the electrochemical behavior of the PPEs, and optical microscopy was used to characterize the X and Y dimensions of 3D printed PPEs while a stylus profilometer was used to determine the step height of the PPEs. A surface roughness of 1.8 nm was found using an AFM. A hexamine ruthenium (III)/hexamine ruthenium (II) redox reaction was used for CV analysis which showed the PPEs matched well with a commercial glassy carbon electrode after calculating approximate relationships with the Randles-Sevcik equation. Stylus profilometry determined a step height of 250 nm.
• • •
Poster 14
Student Name: Samuel Billig
Faculty Sponsors: Dr. Travis E. Wilcoxen
Discipline: Biology
Title: Time Course of Immunomodulatory Effects of Stress in Northern Leopard Frog Tadpoles
Abstract:
Stress is known to have far-reaching effects on vertebrate immune defense, and many stress-induced alterations are mediated by glucocorticoids. As a free-living larval stage of a vertebrate, tadpoles are interesting subjects for the study of the development of physiological systems and the study of evolutionarily-conserved, context-dependent responses to variable environments. We completed two experiments to assess effects of acute and chronic elevation of corticosterone on humoral innate defenses and antibody-mediated immunity in Northern leopard frog tadpoles (Lithobates pipiens). To test humoral innate defense within the tadpoles exposed to acute and chronic stressors, we exposed tadpoles to exogenous corticosterone for different lengths of time in each experiment. The corticosterone-dosed tadpoles killed more A. hydrophila than control tadpoles in the bacterial killing assays. We also found that the lower IgY response is a product of weaker, delayed isotype switching compared to controls. These results show that elevated corticosterone has differential effects on innate and acquired immunity in larval Northern leopard frogs, consistent with patterns in more derived vertebrates and in adult frogs.
• • •
Student Name: Mackenzie Martin
Faculty Sponsors: Dr. Laura Zimmerman
Discipline: Biology
Title: In vitro Synergistic Activity of Antibiotics and Trachemys scripta Plasma on Bacterial Growth
Abstract:
Due to the use, overuse, and misuse of antibiotics, microorganisms in our environment are constantly altered, making bacterial illnesses tougher to overcome. Microbes have genetic capacities that allow them to evolve and mutate at unpredictable rates, employing advantages such as biofilm to resist antibiotics. Thus, new methods of attack against microorganisms are needed. We hypothesized that plasma from the red-eared slider turtle (Trachemys scripta) would act in a synergistic way with antibiotics to improve bacterial killing. T. scripta plasma contains proteins that have immunogenic capacities, such as the complement cascade, that could be helpful in allowing antibiotics to kill bacteria more effectively. Slider plasma was added to sub- inhibitory concentrations of streptomycin for use against Escherichia coli and Staphylococcus aureus bacteria. An antibiotic bacterial killing assay was observed over 4 hours, and data were collected in colonies from contrasting plates of bacteria, bacteria & plasma, bacteria & antibiotic, as well as bacteria, plasma, & antibiotic. There was a significant effect of time for fresh and frozen plasma in killing E. coli and S. aureus. The effect of treatment was significant in fresh and frozen plasma in killing E. coli. However, there was not a significant time by treatment interaction in any trials. It was established that plasma and lower amounts of antibiotic could be used to increase the rate of bacterial elimination. Specifically, further analysis and experimentation could be used in support of employing slider plasma for decreasing antibiotic use in the treatment of bacterial infections.
• • •
Arts Technology and Administration and The English Department
Spring 2020 Issue of BURST Magazine
BURST magazine is a collaboration between the English and Arts Technology departments at Millikin. This year's issue was led by editor-in-chief Erica Mooney and a team of editors, all English majors at Millikin, with assistance from faculty advisor Julie Bates. The articles were written by students from English, Communication, and Education on topics that touch on the theme "Empowerment." Students in Professor Jessa Wilcoxen's Computer Art & Design: Creative Concepts course designed this issue, and students from Millikin Creates assisted with photography and cover design. Students involved are as follows:
Editor-in-Chief: Erica Mooney
Associate Editor: Alexseñia Ralat
Copyeditors: Tressa Rudolph, Kathryn Coffey
Writers: Ashley Brown, Marissa Bournias, Alexander Collins, Kathryn Coffey, Jordan Diver, Kionah Flowers, Anna Gambol, Liam Hayden, Rebekah Icenesse, Nicole Scott, Sydney Sinks, Aubrey Staton Designers: Kathryn Bouxsein, Claire Eppley, Ricky Esparza, Anne Longman, Molly McCool, Kade Nylan, Elsa Rotramel, Mike Schutz, Frieda Smith
Millikin Creates: Allison Brannon, Kat Franklin, Justin Taylor