The WJMU Executive Team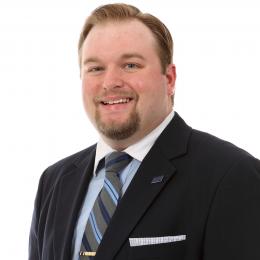 Name: Sam Meister
Position: General Manager
Sam Meister has been instructing courses in Communication at Millikin since the fall of 2010. He also serves as the faculty advisor and General Manager of WJMU "The Quad," the radio broadcasting service of Millikin University. He instructs courses concerning the mass media, including classes on the radio industry, broadcast production and performance, mass media writing, and film study. As advisor to the campus radio station, he works with his student executive board to facilitate a 24-hour-a-day programming schedule that includes a contemporary and classic alternative rock format, student-produced specialty programming, and broadcasts of Millikin UniversitySports. Go Big Blue! He holds a B.A. in Mass Communication from Greenville College and an M.A. in Mass Media Studies from The University of Illinois at Springfield.
Name: Selig Freeman
Position: Program Director
Selig is a Communication major and Program Director at WJMU! Having listened to WJMU for almost all his life, he went to Millikin University because he wanted to be a DJ on his favorite radio station. His interests include music, video games, and a variety of other nerd stuff.
Name: Paige Bequette
Position: Co-Music Director & News Director
Paige Bequette is a Music Business Senior with an Entrepreneurship Minor. At WJMU, Paige is the co-Music Director and News Director. She aspires to be a songwriter someday, but also loves radio and communication. Paige loves finding new music and sharing her finds, which lead to a love of radio and broadcasting. Radio production is one of her favorite contributions to give to WJMU and she enjoys radio interviews as well. Paige also believes that radio is an important way of event promotion as well as a great way to share news. Email: pbequette@millikin.edu for any production questions or news that you would like read on WJMU!
Name: Logan Mclaskey
Position: Production Director
Logan is an English Education major with a Theatre minor. He has loved music all of his life. He loves being able to have his own show on WJMU, playing his favorite artists as he pleases. He also loves long walks on the beach, and listening to WJMU. He loves making and listening to music. He is proud of what he does at WJMU and is happy to be able to bring listeners great music. Though he is not a communication major he hopes that he can keep doing all that he can for WJMU.
Name: Michael Sheldon
Position: Promotions Director
Michael is Senior Communication and Music double major. He is involved with WJMU, University Choir, The Decaturian and UCB. He is also a member of two fraternities on campus and the student-ran Millikin a capella group seVen. Michael is a lover of all types of music. Some of his favorite artists are Pentatonix, Michael Jackson, Ed Sheeran, and Sam Smith. He is originally is from a south suburb of Chicago, Lockport, IL. Michael hopes to continue his passion for music and radio after college.
Name: Trevor Hooth
Position: Co-Sports Director
Name: Chris Cunnningham
Position: Co-Sports Director
Name: Rebecca Coutcher
Position: Webmaster
Rebecca is a Senior Communication major, with a concentration in Media Studies, and a Music minor. A few of her passions are celebrities, cats, and the color pink. Rebecca sings in Collegiate Chorale and is super in love with her sorority, Alpha Chi Omega. She is VERY excited to be involved with WJMU this semester. Check out her show, "Ranting & Raving", every Wednesday and Friday from 10:00 to 11:00 am.
Name: Tiffany Wilson
Position: Creative Coordinator
Tiffany is currently a Junior Communication Mass Media major. With an eccentric personality, way too much to say, & an intense love for music (but little to no talent) radio has been a way for her to share and talk about some of her most idolized bands like blink-182, the Cribs, & The 1975. She hopes to continue being involved in radio for the rest of her college career and is stoked to incorporate everything she has experienced in her plans for the future after graduating from Millikin University & WJMU.