Millikin Food Innovation and Entrepreneurship course to be held in Italy
In July 2016, Millikin University partnered with National Foodworks Services to create a food innovation and entrepreneurship course offered for the spring 2017 semester. The course was also made possible through a grant from the Lumpkin Family Foundation. The course was held at National Foodworks Services in Decatur, Ill.
Next summer, Millikin University will be holding its food innovation and entrepreneurship course in Italy. In the July 2017 edition of the Business Journal of Midcentral Illinois, Julie Shields, director of the Center for Entrepreneurship at Millikin, shared details on how the Center is preparing for next year's course.
"Our trusted Italian partner, Centro Studi Italiani, organized a learning journey to many of the places Richland Community College's culinary arts program visited last year," said Shields. "Businesses producing wines, truffles, balsamic vinegar, cheeses, prosciutto and much more were on the agenda."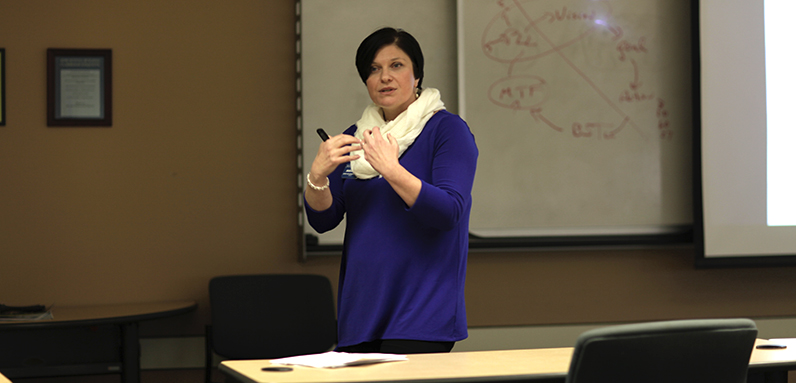 Centro Studi Italiani is an Italian language school in Urbania, Italy that is run by 2004 Millikin alum Giovanni Pasotto.
"As part of the research I tried to look at the businesses through the eyes of the owners, and found their passions for their products to be inspiring of mind and expansive of waistline," said Shields. "Quality over quantity, innovation within traditional processes, and long-term ecological sustainability holding equal importance as financial sustainability were just a few of the impacts."
Throughout the course last spring, students learned the history of the food industry, current industry trends and opportunities, how to identify markets, creating new products and processes, and the tools and skills needed to take a food idea from "concept to cart."
Shields traveled to Italy this summer to conduct research for the course and shared three charrettes from the trip.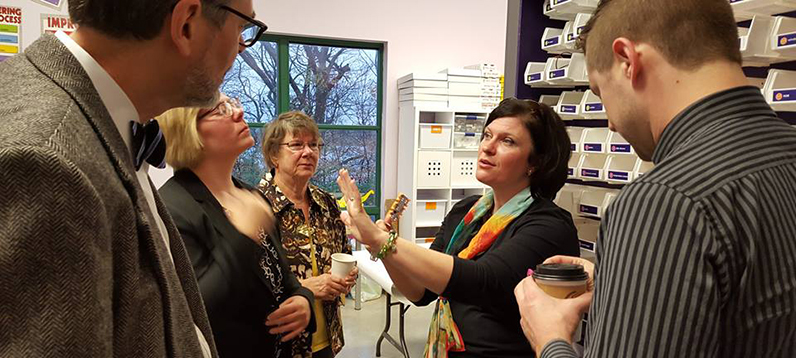 "Longhi Tartufi in Urbania, Italy is a truffle company started in the 1960s," said Shields. "In addition to exporting the freshest, finest truffles in accordance to the proper season, Ravaldo Longhi, the business owner, started a tradition of developing a new food product – usually in jars or pasta – using truffles each year."
Shields also shared details on Gelateria Bloom in Modena, Italy and Corte d'Aibo Winery in Bologna, Italy.
"It's a fairly new winery, and was organized as a cooperative among five owners," said Shields. "It is now in its second generation. It formed as part of the agriturismo movement back in the 1980s and offers a restaurant and bed & breakfast among its 50 acres of vineyards."
Millikin's Food Innovation and Entrepreneurship program was created to further the training, development and growth of food entrepreneurship in central Illinois and beyond. Students will be able to see the various aspects of what establishing and running a successful startup business in the industry entails.
Students interested in taking the course next year in Urbania, Italy can contact Millikin's Center for Entrepreneurship by e-mail at e-center@millikin.edu.
View Coverage