Millikin 2017 Homecoming Celebration set for Oct. 6-8
Millikin University will celebrate Homecoming 2017 with a full week of activities culminating the weekend of Oct. 6-8, 2017, when hundreds of alumni and friends return to campus. A full calendar of Homecoming events is available at millikin.edu/homecoming.
On Friday, Oct. 6, alumni and friends are welcomed back to campus with a complimentary reception from 7-10 p.m. at Common Grounds, located in the new University Commons. During the evening hours on Oct. 6, Millikin Alumni Award recipients and Athletic Hall of Fame inductees will be honored at a celebratory dinner and program held in the University Commons Bob and Debi Johnston Banquet Rooms from 5:30-8 p.m.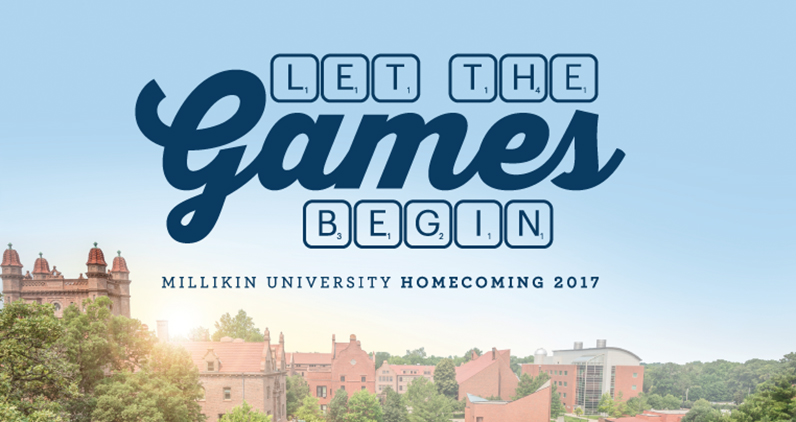 Alumni Award Honorees
• Alumnus of the Year Award: John "Jack" McCoy, class of 1959, and Barbara Witzeman McCoy, class of 1960
• Merit-Loyalty Award: Bruce Nims, class of 1972
• Merit Award: Joe Machota, class of 1993
• Loyalty Award: Janet Ernst, class of 1978
• Young Alumnus Award: Jason Goldfarb, class of 2005, and Meghan Sims Goldfarb, class of 2008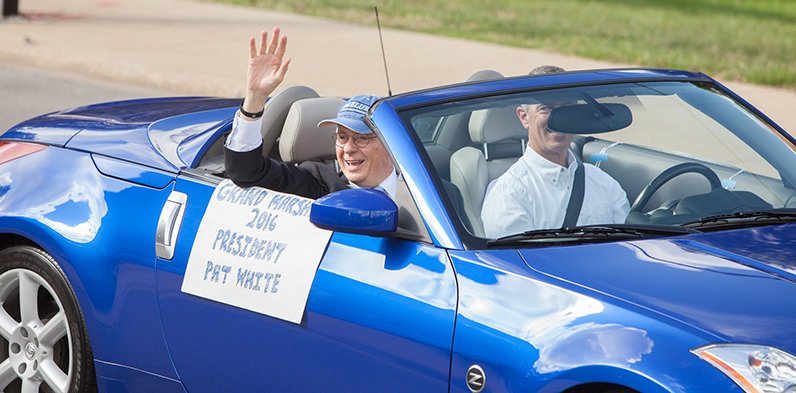 Athletic Hall of Fame Inductees
• Leslie Waddell-Glore, Class of '85, Track and Field
• Richard Harvey, Class of '93, Football and Wrestling
• Dr. Thomas D. Mahoney, Class of '90, Football and Wrestling
• Mike "Mickey" Sprinkle, Class of '58, Basketball
On Saturday, Oct. 7, MU's Homecoming Parade kicks off at 10 a.m. in the surrounding campus blocks, followed by a complimentary All-Millikin Lunch from 11 a.m. – 2 p.m. in the University Commons Student Dining Hall. Homecoming guests can also enjoy a tour of the new building, led by current Millikin students, at 11 a.m. and 2 p.m.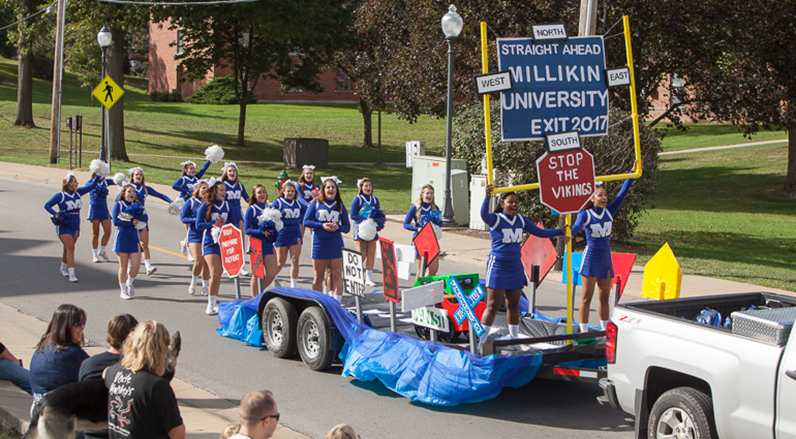 Capping off Saturday, the Big Blue Football will take on Wheaton College at 6 p.m. at Frank M. Lindsay Field.
Homecoming 2017 will conclude on Sunday, Oct. 8, at 2 p.m., with the annual Homecoming Choral Concert, featuring members of the University Choir and Alumni Choir, at Central Christian Church, located at 650 W. William St. in Decatur, Ill.
Some of the Millikin Homecoming events have fees and require reservations. For more information about Homecoming 2017, and to register by the Oct. 1 deadline, contact Millikin's Alumni and Development Office at 217.424.6383 or visit millikin.edu/homecoming.