A recent study has shown that the number of Illinois university startup businesses have surged to a record high. Illinois universities produced 285 startups in 2016, which is up 95 percent from the previous year. From 2012 to 2016, Illinois universities produced more than 800 startups, which is up nearly 100 percent compared to 2009–2013, according to the Illinois Science & Technology Coalition's (ISTC) annual report.
In a recent interview with WCIA-TV, Julie Shields, director of Millikin University's Center for Entrepreneurship, said, "There's very much a concept of 'how do we think about the we and not just me,' so, I'm definitely seeing that trend."
Shields believes the increase is due to more students wanting to make changes in the world we see today.
"It's not always a social entrepreneurship venture, but a lot of times, it's a socially responsible entrepreneurship venture and something to try to alleviate a problem," said Shields.
The latest Illinois Science & Technology Coalition Innovation Index shows that efforts by local colleges to increase entrepreneurial resources and innovation centers are paying dividends to the state's startup activity.
Of the 804 Illinois university startups that were founded between 2012 and 2016, 78 percent remain active or have been acquired. And of those companies, 81 percent remain in Illinois. That number is the highest the ISTC has recorded since it began its annual survey in 2013.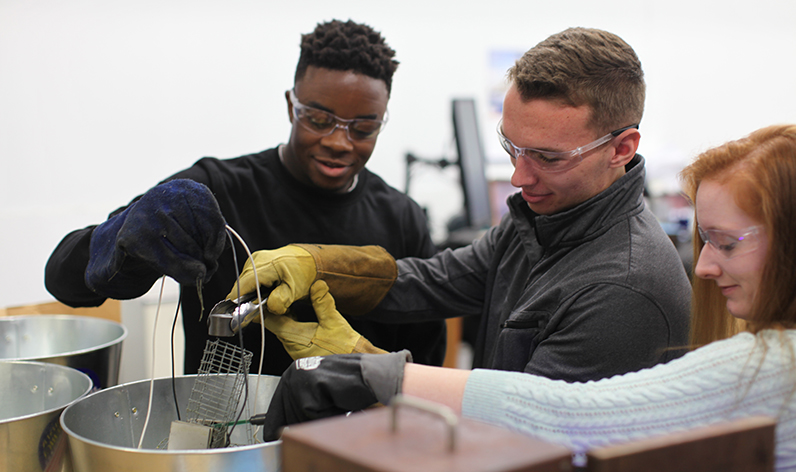 One of Millikin University's startups, BluSolar, is a cleantech startup that offers research and development services pertaining to the cryogenic treatment of photovoltaics. Working in conjunction with 300 Below Inc., the world leader in commercial cryogenic processing solutions, BluSolar provides tailored solutions for solar manufacturers or distributors wishing to enhance their product via cryogenic treatment.
BluSolar recently finished as a top three finalist at the Cleantech University Prize (UP) Pitch Competition on Feb. 9. BluSolar has advanced to the DoE National Cleantech UP competition in June for a chance to win $100,000.
"The things we do, we really believe that it could have a massive environmental impact, societal impact and economic impact," said Estefano Martinez, a sophomore business management major from Zionsville, Ind., and CEO of BluSolar. "This isn't just a way to make money. It's a way to help the future."
Martinez says coming to college and collaborating with like-minded students has helped him flourish.
"The most valuable thing mentors around here have given me is just that company and support to keep working," said Martinez.
Aric Hopp, a senior entrepreneurship major from Lincoln, Ill., is launching a coffee shop in downtown Decatur, Ill. Hopp says the innovative culture on campus motivates him to create.
"Whatever you do, you have people around you that are willing to put in that extra step. It does help, especially with productivity," said Hopp.