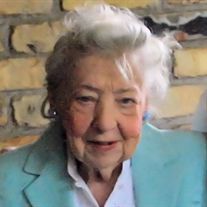 Sarah "Sally" Ann McRoberts, 92, of Decatur, Illinois, passed away Thursday, March 5, 2015, at Decatur Memorial Hospital after a brief illness.
Sally was born October 1, 1922, in Decatur, the daughter of James and Martha (Crosson) McRoberts. Sally graduated from St. Theresa Catholic High School. She worked as a book keeper for John Hancock Insurance Company a number of years. Sally always had a positive outlook on life and a sense of humor to match. She was a caregiver for her mother and then later for her older sister, Rosemary. Sally was a lifelong member of St. Thomas the Apostle Catholic Church and a devoted Catholic.
Survivors include her brother in law, Leo J. O'Neill; her nephews, Timothy O'Neill, Michael O'Neill, and James McRoberts, Jr; her nieces, Karen (McRoberts) Saunders, Erin (O'Neill) Flynn, and Peg (O'Neill) Hopkins; and her lifelong friends, George and Loretta Newlin and their son Dr. John Newlin. She was preceded in death by her parents; her sisters, Margaret (McRoberts) Smith, Rosemary McRoberts, and Helen (McRoberts) O'Neill; and her brother, James McRoberts.
A Mass of Christian Burial will be 11 a.m. Monday, March 9, at St. Thomas the Apostle Catholic Church, Decatur. Visitation will precede the service from 10-11. Burial will be at Greenwood Cemetery in Decatur. Memorials may be made to St. Thomas the Apostle Catholic Church or St. Theresa Catholic High School.
The McRoberts family is being served by the Moran & Goebel Funeral Home, 2801 N. Monroe St., Decatur, IL 62526. View the online obituary and send condolences to the family at www.moranandgoebel.com.